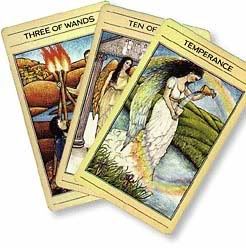 I was raised following Catholic traditions. We prayed before every meal, were surrounded by religious symbolism, and watched movies like The Exorcism and Amityville Horror as a matter of training more than entertainment. Yet it wasn't the Catholicism, constant push of guilt, or even the religious symbols that created my faith in something bigger than me. It was in part, the Tarot deck.

Like clockwork my grandmother would wait until we went to bed to pull out her deck. She wasn't trying to hide it from us. she simply wanted to concentrate on what she was doing. I remember peeking down from upstairs, looking through the grate to watch her as she sat at the dining room table. The room was lit by the soft glow of a lamp covered in a milk jug lampshade and a candle on the table.

She lovingly laid out her deck, softly speaking as she interpreted the cards that she took such care with. Her soft curls framed her face as she bent her head with a smile, raised eyebrows, or gentle smile.

The Tarot was not just a deck of cards for my grandmother. It was an avenue to understanding. To her it was as commonplace as having tea with the neighbors or chatting with us over her breakfast of dried toast and coffee. It went right along with the conversations she had with her father. I don't ever remember meeting him while he was alive, but he visited us plenty in death.

The back door would slowly swing open and my grandmother would welcome this specter in as if he was just visiting from next door. This was a fairly regular thing in our house and no one but a new visitor thought anything of it.

This is where I embraced my spirituality. By her actions, my grandmother taught me that death was just another plane. She respected her deity, but she did not deny that the average person had access to other realms. She didn't even make a fuss about it.

Sure, we had other family traditions, but this one is the one that helped me embrace my spiritual beliefs. For me, it was probably the most important tradition that my grandmother shared with me.